Displaced humanitarians in action: NGOs continue operations in Marawi
As the capital of Lanao del Sur, Marawi was a busy center of trade in the southern Philippines. It was also home to more than 20 non-governmental organizations (NGOs), all of whom evacuated during the Marawi conflict.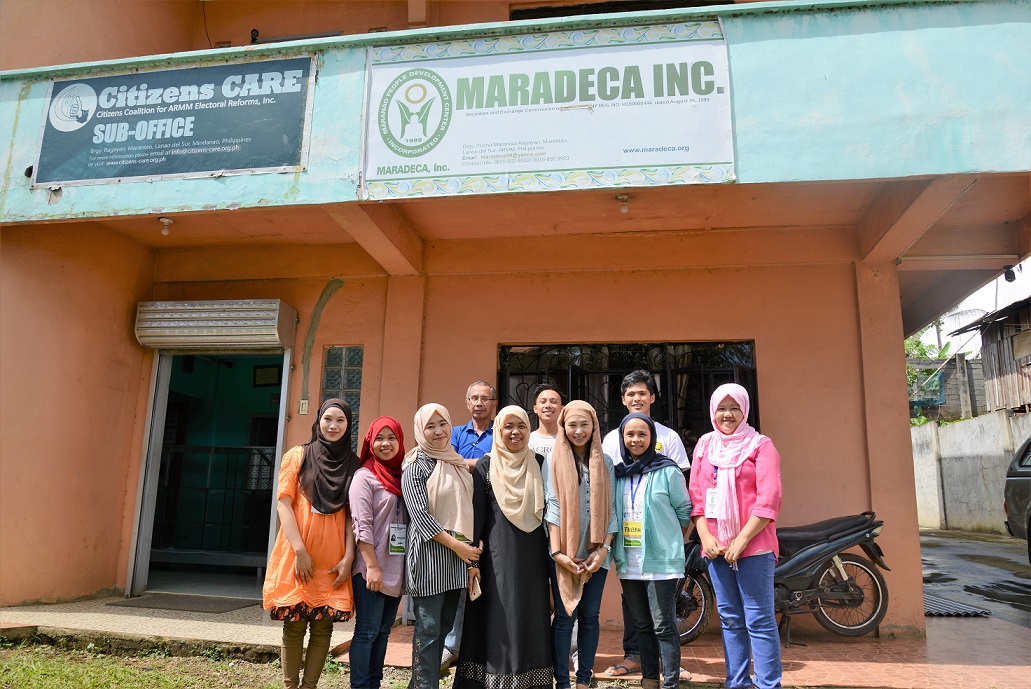 MARADECA resumes operations in Marantao
Among those who were displaced is the Maranao People Development Center (MARADECA). The organization has been operational in Lanao del Sur since 1999, assisting people in social economic advancement through peacebuilding, health, sanitation, education and development initiatives. MARADECA has been working closely with rural and urban communities in Marawi city and Lanao del Sur primarily focused on assisting women and children of displaced communities. They operate from an office located in Ragayan in Marantao – one of the areas affected by the conflict.
On 23 May, when fighting broke out in Marawi city, they were holding a meeting with partner Catholic Relief Services (CRS) at their office. About half of the staff members were in the office that day. Fighting started in Basak Malutlut, with members of the nonstate armed organization Maute Group exchanging gunfire with the military. As fighting continued, Faradika Salik, a project officer, was worried about how best to escort their visiting colleagues out of the city. Dressed in a hijab, she managed to get the CRS staff to safety through Saguiaran to Iligan. "I was also worried for the safety of our staff and those who were out in the field" say Farida. Her surname was the same as that of local politicians implicated in the conflict. "I had to present my birth certificate at every check point to prove I was not related to him."
Amiladin Imam, 25, is a MARADECA field officer and was in Saguiaran when fighting broke out. On his way to work, he was stopped by the military in parts of the city. Fearing for the safety of his family, he requested permission from his office to gather wife and children, who were still in school. Access to the school was difficult as fighting escalated. He was also worried about getting his grandmother, whose house is near the market area, from Datu Dansalan. The next day, his relatives managed to reach his Grandmother and took the family by canoe through Lake Lanao to Masio. "I never thought the fighting would spread in the city," says Imam.
MARADECA opened an office in Iligan and accounted for all their staff. They reorganized their operations and assisted in the data-gathering of IDPs as they continued to seek refuge in Iligan. Working in partnership with CRS and Plan International, they are assisting both home-based IDPs (in Piagapo, Marantao and Saguiran) and those in evacuation centres, building partitions and child-friendly spaces. They are also constructing women-friendly spaces in the same municipalities. MARADECA partnered with Plan International to construct bathing cubicles, washing areas and latrines in these locations. Juhairas Mai, 23, is helping MARADECA implement a profiling for beneficiaries in Kapatagan, Balabagan, Budipusoi, Wao and Bunburan.
Most of them operated from their hotels and rented houses. Some of the staff went as far as Tubod, about 50 kilometres from Iligan, to rent a place.
MARADECA reopened their office in Marawi on 27 November 2017. "We appreciate the assistance of the humanitarian community, and the Mindanao Humanitarian Team for assisting the Government to address the immediate needs of IDPs," says Farida. "The challenges of return and resettlement of the displaced community are enormous. Our hope is that peace and reconciliation will prevail in Marawi."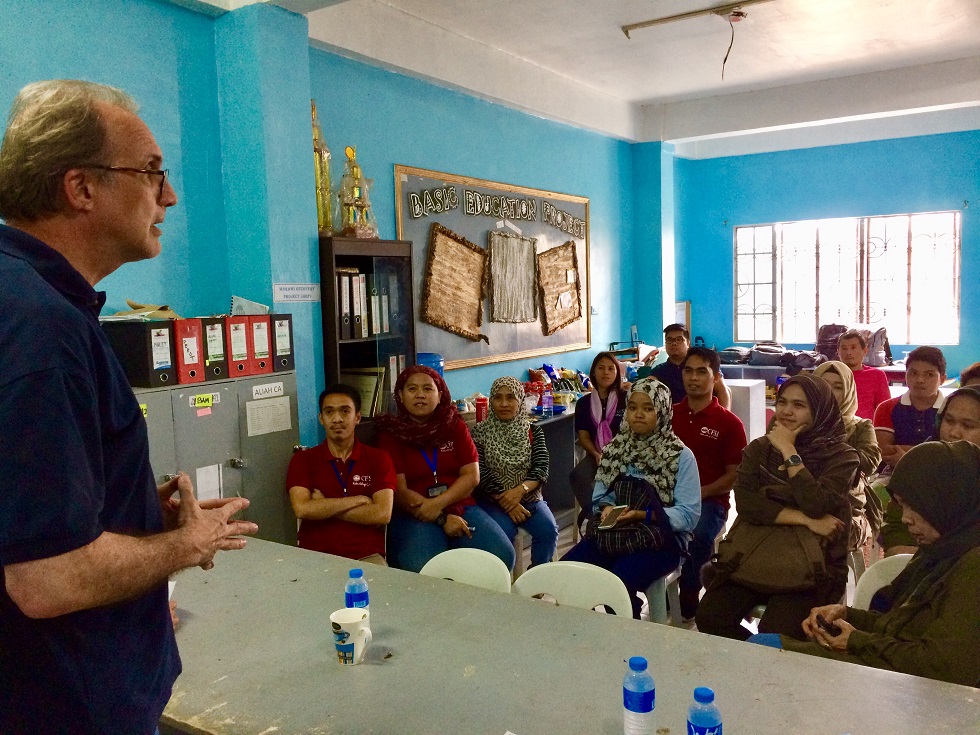 CFSI continues emergency response as it launches early recovery efforts
Community and Family Services International (CFSI) began its work in the conflict-affected areas of Mindanao in May 2000. The CFSI Operations Center was established in Cotabato City that same year. The CFSI Sub-Office in Iligan City, as well as the CFSI Field Office in Marawi City, were established in February 2009 in support of CFSI's expanding operations in Northern Mindanao, including, but not limited to its emergency response to an outbreak of armed conflict owing to the failure of the Memorandum of Agreement on Ancestral Domain. This included the displacement of roughly 750,000 people. CFSI's operations from the Marawi and Iligan Offices, beginning in 2009 and running for various periods of time, included emergency relief (protection, food assistance), reconstruction and development activities in support of the peace process, and development activities.
On 24 May, Marawi-based CFSI staff evacuated to the Sub-Office in Iligan City, rapidly seeking temporary housing in Iligan and nearby municipalities. The CFSI response to the rapidly deteriorating situation began on 25 May, with P250,000 (US$4,900) allocated from the CFSI Emergency Response Fund on 25 May and available at field level by 26 May. Within days, CFSI had entered into a rental agreement for a staff house in Iligan City, thereby providing a refuge for both displaced staff members and newly deployed staff members.
The CFSI Field Office in Marawi City officially reopened on 3 December, after many prior visits to various parts of Marawi City by CFSI staff for the purposes of assessment, relief distribution, and coordination activities. "Colleagues helped each other work through the various emotions associated with the losses, damages, and implications of the situation of Marawi City and also spent a lot of time helping others do the same," said Steven Muncy, CFSI's Executive Director. "Most CFSI colleagues, particularly those from Northern but also Central Mindanao, have consistently reflected a deep devotion to, and concern for, Marawi City, in part because they are life-long residents of the city and surrounding area or went to school at Mindanao State University in Marawi City and, in part, because CFSI has deep ties to the city and the people of the Lanao provinces after so many years of work in the area."
CFSI has begun ramping up its operations, launching its early recovery efforts even as its emergency response operations continue. CFSI's multi-year Marawi Recovery Project, funded by the Australian government, includes three project components: protection, psychosocial support, and livelihood. The latter include two sub-components, livelihood for urban-based activity by families in Marawi City and agricultural inputs for farming families in three affected municipalities in Lanao del Sur. The Food and Agriculture Organization of the United Nations will carry out the work with farming families, in cooperation with government partners and CFSI.